BOPE Matt Film(EMT)
Excellent high dyne retention
High strength PE matt structure
High surface clarity and excellent visibility
High matt effect,comfortable touch feeling
Product Advantages
High matt effect
Comfortable touch feeling
High surface clarity
and excellent visibility
Excellent high dyne retention
Suitable for printing and lamination
High strength PE matt structure
Improve the pouch's puncture resistance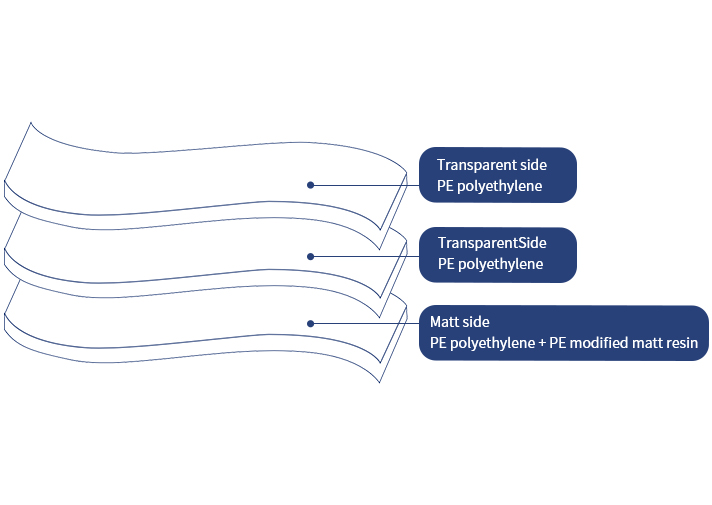 Category
| Product catalogue | Product type |
| --- | --- |
| BOPE matt film | BOPE-EMT |
Remark: The above BOPE one side matt film could be customized for clients according to their specific application demand.
Performance
BOPE one side matt film(EMT)

Property

Unit

Typical Values

Reference

Method

/

MD

%

TD

%

Coefficient of Friction

Corona treated side 1

-

Corona treated side 2

-

≥

70

≤

12

Wetting tension(two sides)

≥

38
*The information on Weifu products and their applications provided in this datasheet is based on testing of representative material and the results are believed to be reliable as at the date of publication advised below. The information does not constitute a warranty or guarantee, either expressly or implied, of any specific product attribute or the suitability of products for specific applications. For particular technical requirements or specifications, please contact Weifu.
Application
Suitable for protective packaging of electronic, digital products and precision instruments. It can be laminated with paper carton, gift boxes, filling bags, and etc. Suitable for packaging of milk in bag, color-printing gift bags, small rice bags, and etc.