New Eco-Friendly Material
Stable property
Various films available for selection
Wide application
Supply diverse products with Eco-Friendly concept
Product Advantages
Stable product property
No obvious discrepancy on properties while compared with other common films
Various films available for selection
Biodegradable PLA, PP films, PCR Films, special paper, and etc
Wide range of applications
Eco-friendly label,adhesive tape,release material,and etc
Customized for different specific demands
Supply diverse products with Eco-Friendly concept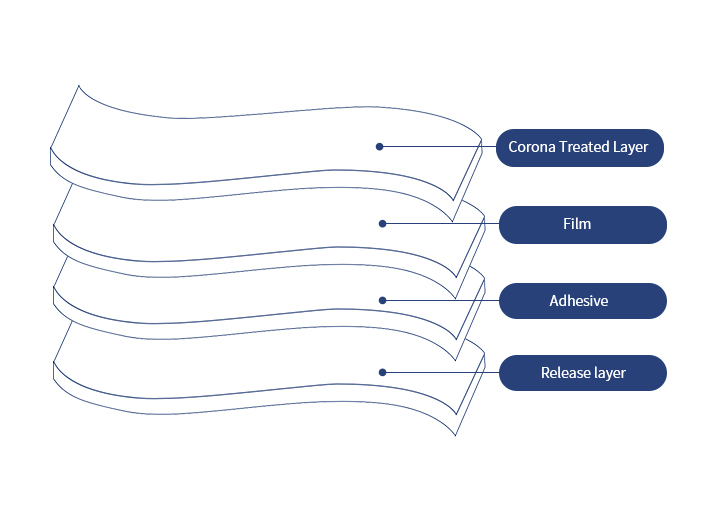 Category
| 产品分类 | 产品型号 |
| --- | --- |
| Release tracing paper | PETROline 9100EF |
| Printable transparent PLA protective film | PETROIS PET8402P-EF |
| Degradable OPP release film | PETROline 25022-EF |
| Degradable one side matt OPP film with anti-scratch | PETROfoi1 55021-EF |
| Black PCR PET label with anti-flaming | PETROfilm FR55051-RGE |
| Black PCR PET label with anti-flaming and noise reduction | PETRfilm FR53651P |
Remark:The above films can be customized for clients according to their specific application demand.
Performance
Adhesive

Test items

Reference

Unit

Method

PCR PET Thickness

36±1.5
μm

Adhesive

27±2
μm
GB/T 7125-2014

Total thickness

82±5
μm
GB 1 7125-2014

Peeling strength of mirror steel

≥1.2

kg/25mm

GBT 2792-2014(Samples from MD)

Annular initial adhesion strength

≥0.8
kg/(25mm)2
ASTM D6195-03 (2011)

Retention

≥72
Hkg/(24mm)2
GBT 4851

Flame Class

VIM-0
/
UL94
*Remark:The information on Weifu products and their applications provided in this data sheet is based on testing of representative material. The information does not constitute a warranty or guarantee, either expressly or implied, of any specific product attribute or the suitability of products for specific applications. For particular technical requirements or specifications, please contact Weifu.
Application
Biodegradable films can be made into protective films for product protection or can replace common film as adhesive tape and label products; special paper labels are widely used for labels of plastic toys, toy books,nameplates for electronic and electrical products , cardboard boxes, and etc.