Suitable For Battery Application
Stable adhesive effect
Excellent processing receptivity
With good high and low temperature resistance
Supply diverse adhesive product with different properties
Product Advantages
Stable adhesive effect
Suitable for different conditions
With good high and low temperature resistance
Excellent processing receptivity
Base on specific application demands
Suitable for small scale die cutting,with no adhesive migration and warping
Independent intellectual property product patents
Guarantee product adhesive temperature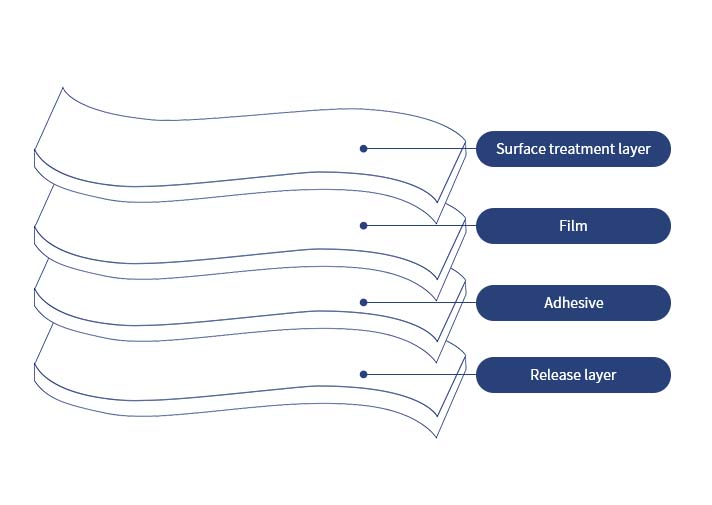 Category
| 产品分类 | 产品型号 |
| --- | --- |
| Black flame retardant and denoise PET film | PETROfilm FR535051-NR |
| Matt black flame retardant PI tape | PETROfilm FR71251 |
| Transparent flame retardant PET film | PETRfilm FR52511 |
| High temperature resistant succinic acid PI tape | PETRfilm FR72570 |
| Anti-static silicone battery process protective film | PETROIS PET9125D-23C |
| Battery outer packaging tape | PETROtape 550G |
Remark:The above films can be customized for clients according to their specific application demand.
Performance
Adhesive

Test items

Reference

Unit

Method

Based material thickness

25±2
μm
GB T 7125-2014

Adhesive thickness

22±2
μm
GBT 7125-2014

Coating surface thickness

22±2
μm
GB T 7125-2014

Total thickness

50±5
μm
GB T 7125-2014

180° Peeling strength

≥12
N/25mm
GBT2792-2014(sampling from MD)

Retention

72↑
H/kg×(24mm)²
GB T4851

Property test items

Flame Class

VIM-0
/
UL 94-2013 Rev.3-2015 (sampling from MD)

Appearance color

哑黑
/
/
*The information on Weifu products and their applications provided in this datasheet is based on testing of representative material and the results are believed to be reliable as at the date of publication advised below. The information does not constitute a warranty or guarantee, either expressly or implied, of any specific product attribute or the suitability of products for specific applications. For particular technical requirements or specifications, please contact Weifu.
Application
Suitable for battery outer packaging label:Available with flame retardant and denoise flame retardant products,and the flame retardant grade can reach UL 94 VTM-0 level;It can be used for irregular die cutting without warping; and adapt to various printing methods with high ink bonding strength ;Adhesive surface mesh design, suitable for fast labeling without adhesive migration and warping; Used for battery protection,providing silicone or acrylic protective films,suitable for appearance protection during the processing of potassium battery cells soft packaging, and can also be used for battery fixation;Brown and black PI tape, can be used for winding up and starting adhesive fixation. Sticking to the position of the cell ear to protect the cell ear and prevent short circuits; Transparent flame retardant and easy peeling products are suitable for fixing and repairing 3C batteries; And for power batteries, products like battery outer packaging tape, termination tape, wrapping film, and separate film are available.